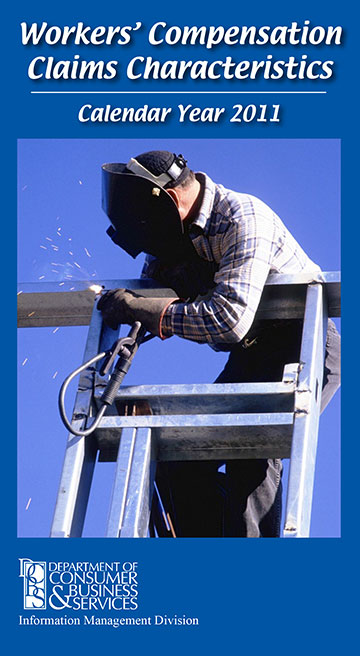 The Workers' Compensation Division received notification of 18,691 accepted disabling claims in 2011, an increase of 679 claims from 2010. Employment increased by 15,400 workers, resulting in a 2011 claims rate of 1.1 claims per 100 workers.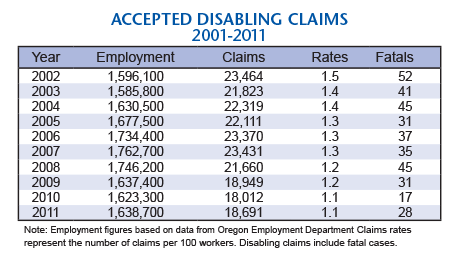 In 2011, there were 70 years separating the oldest and youngest workers. The youngest was a 15-year-old food service worker. The oldest was an 85-year-old retail sales worker.
Injury/Disease Facts, Oregon, 2011
Occupational diseases comprised 9.6 percent of the accepted disabling claims.
Workers in their first year with an employer filed 4,710 claims, 25.0 percent of the total accepted in 2011.
Of the total 18,691 accepted disabling claims, 49 were for workers under 18 and 520 were for workers 65 or older. The average age of claimants in 2011 was 42.
Most of the claims were for male workers, accounting for 11,942 (63.9 percent) of the total.
The average weekly wage at time of injury for all claimants was $674.35. The average weekly wage for all Oregon workers, excluding federal employees, was $842.52.
Private industry accounted for 16,065 of the accepted disabling claims, approximately 86 percent.
Transportation and material movers are the most commonly injured worker occupation, comprising more than 17 percent.
---
If you have questions about the information contained in this document, please contact by e-mail or phone: Karen Howard, research analyst, Research & Analysis Section, Information Management Division, 503-947-7364.

The information in IMD publications is in the public domain and may be reprinted without permission.

This document was originally published in July 2012.
[Printed form: 440-2055 (09/12/COM)]