DEPARTMENT OF CONSUMER & BUSINESS SERVICES,
RESEARCH & ANALYSIS SECTION
WORKERS' COMPENSATION CLAIMS CHARACTERISTICS
CALENDAR YEAR 1995
---
The Workers' Compensation Division received 30,564 accepted disabling claims in 1995, a decrease of 966 claims from 1994. Employment increased by 53,000 workers, resulting in a claims rate of 2.1 claims per 100 workers. This claims rate is a record low in Oregon.
---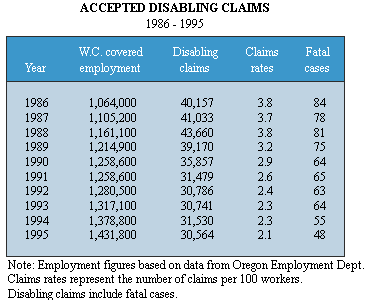 ---
Of the 48 work-related fatalities recorded in 1995, 44 of the victims were men, and four were women. The youngest was a 23-year-old construction laborer. The oldest was a 63-year-old millwright.
---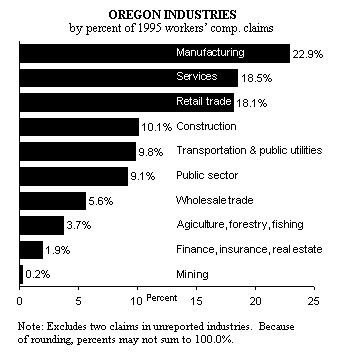 ---
CLAIMS CHARACTERISTICS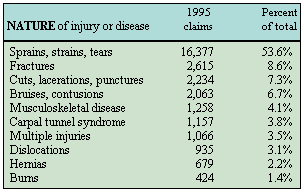 ---
Sprains or strains of the back were the most common injury in 1995, accounting for 7,274 claims - or 23.8 percent - of the 30,564 claims accepted as disabling.
---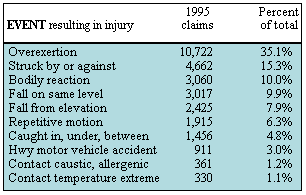 ---
4,562 disabling claims were accepted in 1995 for falls to floors, walks, or the ground, and 3,626 for overexertion with containers.
---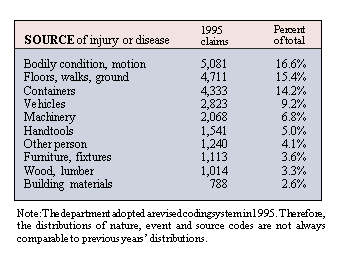 ---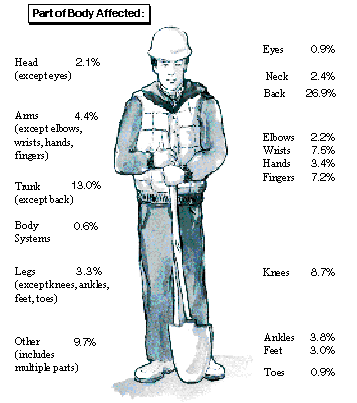 ---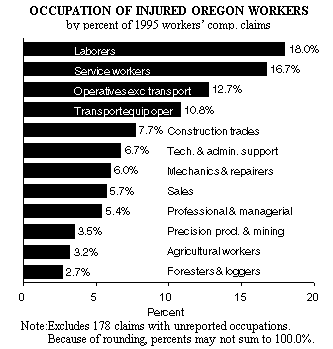 ---
INJURY/DISEASE FACTS, OREGON, 1995
In 1995, 30,564 claims were accepted as disabling. The claims rate was 2.1 claims per 100 workers, a record low in Oregon.
Of the total 30,564 claims accepted as disabling, 9,768 (32.0 percent) were for women; 307 (1.0 percent) were for workers under age 18; and 292 (1.0 percent) were for workers aged 65 or over.
Occupational diseases comprised 12.4 percent of the accepted disabling claims.
Some 783 workers filed more than one injury or disease claim and had those claims accepted in 1995.
The average weekly wage at time of injury for 1995 claimants was $418.06 while the average weekly wage for all Oregon workers, excluding federal, was $491.78.
The construction industry and the transportation and public utilities industry had the highest claims rate (4.5). The finance, insurance and real estate industry had the lowest rate (0.7).
Workers in their first year with an employer filed 11,291 claims, 36.9 percent of the total accepted in 1995.

---

---

If you have questions about the information contained in this document please contact by e-mail or phone:
Kathy Thomas, Assistant Manager, Research & Analysis Section, Information Management Division (503) 947-7308

This document was originally published in January 1997.
Document URL: http://www.cbs.state.or.us/external/imd/rasums/5_2055s.htm


In compliance with the Americans with Disabilities Act (ADA), this publication is available in alternative formats by calling (503) 378-8254 (V/TTY).
The information in IMD publications is in the public domain and may be reprinted without permission.