---
Requests
The Hearings Division of the Oregon Workers' Compensation Board received 14,862 requests for hearing in 1995, down 10.1 percent from the previous year. These totals include stipulations received without a prior hearing request. There were 888 of these received stipulations in 1995. See figure 1.
---
Closures
In 1995 the Hearings Division issued 16,798 closing orders, a 6.6 percent increase above 1994's count. The number of hearings administrative law judges was quite constant over the 1994-1995 period.

Notes: The data below, except figure 1, include only cases involving claimant compensation (the right to receive it, or the amount thereof) or directly related issues. Discussions of issues and their dispositions apply to opinion and order (O&O) and stipulation cases only. Stipulations include disputed claim settlements (DCSs).
---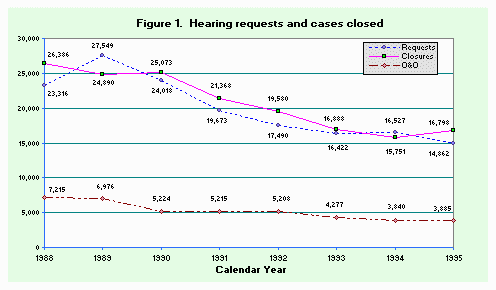 ---
The breakout of closing orders by order type was as follows: 3,881 O&O's (23.3 percent), 7,654 stipulations (46.0 percent, the lowest percentage on record); 5,035 dismissals (30.3 percent, the highest on record); and 65 arbitrator's decisions (0.4 percent).

SAIF was the insurer in 35.3 percent of the cases, the fourth consecutive record-low value. Private insurers accounted for 47.4 percent, and self-insured employers a record-high 16.9 percent. The claimant was the hearing requester in 91.1 percent of the cases.
---
Issues
Figure 2 depicts the number of issues resolved at hearings. Extent of temporary disability was an issue in 3.9 percent of the cases, a record-low percentage. Claim denial was an issue in 39.4 percent of the cases, and partial denial a record-high 27.5 percent of the cases.
---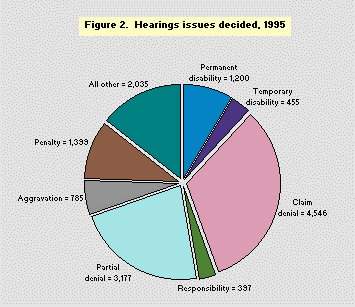 ---
Permanent disability
Four measures of permanent disability awards reached record-low values for the fifth consecutive year: number of cases with this issue (1,200), percentage of cases with this issue (10.4 percent), percentage of cases where the award is increased (57.3 percent), and net amount of permanent partial disability (PPD) awarded ($1.5 million). See figure 3. The average PPD award increase (17.8 degrees, combining scheduled and unscheduled awards) also reached a record low, after a slight increase in 1994.
---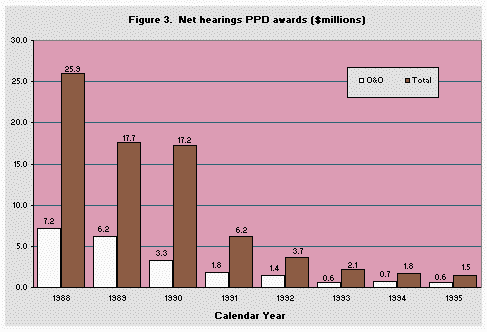 ---
There were 13 permanent total disability (PTD) grants in 1995, including two reinstatements. Seven were by stipulation. There also were two PTD rescissions and one order affirming an earlier PTD grant. See figure 4.
---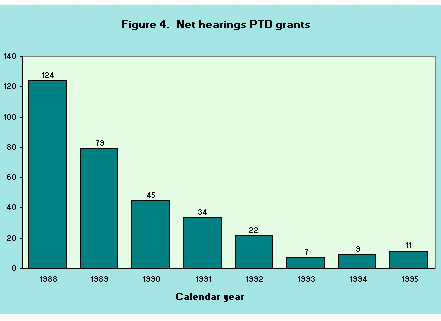 ---
Issue dispositions
The percentages of O&O cases decided in claimants' favor (all figures are percent) were as follows: permanent disability, 44.0; temporary disability, 59.5; claim denial, 46.4; partial denial, 42.4; aggravation, 34.7; premature closure, 50.5; medical services, 63.2; vocational services, 61.1 (highest value on record); insurer penalty, 41.0; and attorney fees, 50.8. For the issues of aggravation, medical, and penalty, these are the lowest values on record. For claim denial and partial denial, these are the lowest values in at least five years. For disability issues, the above percentages reflect award increases (35.6 and 58.0 percent for permanent and temporary disability, respectively) plus insurer or employer hearing requests where the disability award is affirmed.
---
Disputed claim settlements
Figure 5 depicts the total value of DCSs, amounts paid to claimants as consideration for not contesting a denial. Of the 4,455 cases in 1995, the issue was denial of the original claim in 2,346 cases (52.7 percent, the smallest percentage on record). The average amount was $5006.
---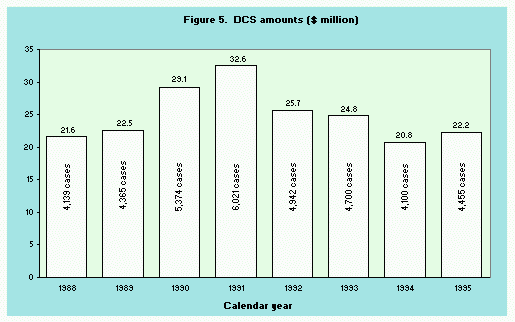 ---
Time Lags
For O&O cases, the median time from hearing request to order was 162 days (5.3 months), 15 days longer than in 1994. The median time from injury to order for all cases was 574 days (1.6 years).
---
Attorney Fees
Fees awarded to claimants' attorneys totaled $10.9 million, 4.4 percent more than in 1994. The average fee was $1,348. About 46.7 percent of these fees were paid out of claimants' compensation, the smallest such percentage on record.
---
If you have questions about the information contained in this document please contact by e-mail or phone:
Russell Reed, Research Analyst, Research & Analysis Section, Information Management Division (503) 947-7343
This document was originally published in August 1996.
Printed form: 440/2106 (8/96/IMD)
Document URL: http://www.cbs.state.or.us/external/imd/rasums/hear95.htm

In compliance with the Americans with Disabilities Act (ADA), this publication is available in alternative formats by calling (503) 378-8254 (V/TTY).
The information in IMD publications is in the public domain and may be reprinted without permission.