---
The Oregon workers' compensation insurers and self-insured employers paid almost $27.4 million for attorney salaries and other costs of legal services in calendar year 1995. These costs are primarily to defend the insurer against claims or benefits believed to be unwarranted, but also include fees paid to represent the insurer in responsibility disputes (where the outcome may not directly affect the claimant) and for advising the insurer in activities outside of litigation (such as negotiating a claim disposition agreement). These costs are distinguished from fees paid to attorneys representing injured workers.
Table 1 summarizes these costs. The bottom row of this table depicts the breakdown of costs by category: 60.7 percent of all costs were for retained counsel, compared to 62.8 percent in 1994.
---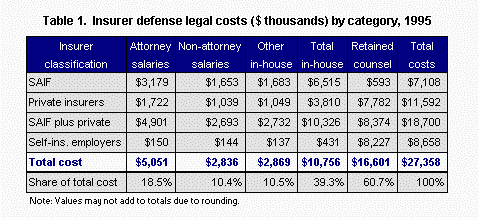 ---
The graph below depicts total defense legal costs for the past six years, the only period for which data are available.
---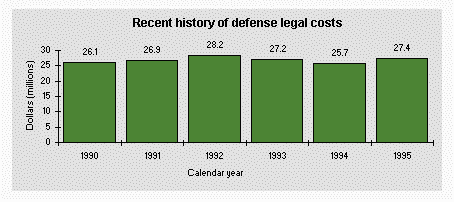 ---
All insurer classifications (Table 2, column 5) contributed to the 6.5 percent increase in 1995, as did all cost categories except for non-attorney salaries (which showed a 1.1 percent decrease). Other in-house costs showed the largest increase, both in terms of absolute value ($678,000) and percentage change (30.9 percent). Since the number of claims decreased slightly in 1995, it appears that the reason for the overall cost increase is that each claim cost more to defend.
---

---
For each insurer classification, information on share of costs, number of claims, in-house attorney staff, in-house costs as a percentage of all costs, and 1994-1995 cost changes are given in Table 2. SAIF's share of costs climbed by one percentage point from the 25 percent of the past two years; self-insured employers' share dropped one point (column 1). The number of claims (column 2) indicates the number of claims that had litigation during the year; this number has fallen each year since 1990. The numbers of in-house attorney staff (full-time equivalent, or FTE) and the percentages of all costs that are composed of salaries to legal staff and other in-house costs are given in columns 3 and 4, respectively. SAIF continued to rely more heavily on in-house legal staff. SAIF also had the greatest cost increase over 1994 (column 5).
---
A total of $21,652,000 -- 79.1 percent of all defense costs-- was paid to defense attorneys (attorney salaries + retained counsel), up 4.9 percent from 1994. (We assume for this purpose that billings for retained counsel are all attorney fees, but that is not always the case.)

This report is based on data submitted by insurers and self-insured employers as required by ORS 565.388(5). More information is available from the Department of Consumer and Business Services, Research & Analysis Section.
---
If you have questions about the information contained in this document please contact by e-mail or phone:
Russell Reed, Research Analyst, Research & Analysis, Information Management Division (503) 947-7343
This document was originally published in December 1996.
Printed form: 440-2314 (12/96/IMD)
Document URL: http://www.cbs.state.or.us/external/imd/rasums/95legal.htm

In compliance with the Americans with Disabilities Act (ADA), this publication is available in alternative formats by calling (503) 378-8254 (V/TTY).
The information in IMD publications is in the public domain and may be reprinted without permission.