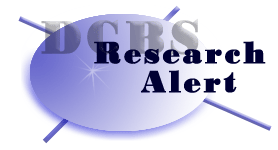 Work-related Compensable Fatalities, Oregon 2000

by Elizabeth Priddy

The number of work-related compensable fatalities in Oregon decreased from 47 in 1999 to 45 in 2000. The record-low is 43 fatalities in 1997 (see Figure 1). Work-related fatalities are those fatalities which were accepted as compensable by an insurer during 2000, and for which the Department of Consumer & Business Services received notification by January 31, 2001.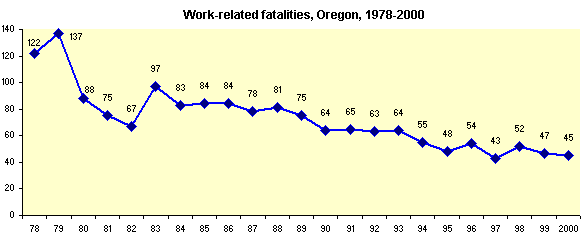 Of the 45 work-related fatalities in 2000, 42 were men and three were women, compared to 42 men and five women in 1999. The median age of these workers was 46 years. The youngest worker killed was a 15-year-old newspaper carrier that was the passenger in a car that struck a parked semi-truck. The oldest worker was a 72-year-old machinist that fell from a platform while operating a machine.

The logging industry accounted for the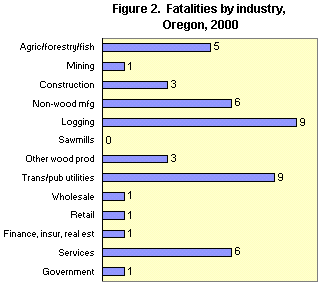 highest number of fatalities with nine, followed by transportation and public utilities with eight fatalities (see Figure 2).1The occupation with the most compensable fatalities was transportation operator, with eleven, followed by loggers, foresters and fishers, which accounted for nine fatalities.
Transportation accidents resulted in the greatest number of compensable fatalities (22). Theseaccidents include collisions, overturned vehicles, and fatalities in which workers were struck or pinned by a vehicle. This number also includes three workers who were killed in aircraft accidents, one worker who was killed in a water vehicle accident, and one worker who drowned. Ten workers were killed by being struck by an object. One fatality resulted from workplace violence in 2000.
Ten of the 45 fatalities in 2000 occurred out of the state of Oregon. Eighteen of the workers killed had been employed for a year or less at the time of their injury, including nine workers who were killed during the first month of employment. These fatalities indicate the need for training and supervision of all new employees.


1 Revised from data published 05/01/01.
---
If you have questions, about the information contained in this document please contact by e-mail or phone: Elizabeth Priddy , Research Analyst, Research & Analysis Section, Information Management Division (503) 947-7061.
This web page was last revised:7/11/01