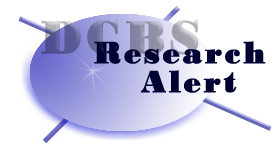 Work-related Compensable Fatalities, Oregon 2002

by Elizabeth Priddy

The number of work-related compensable fatalities in Oregon increased from 34 in 2001 to 52 in 2002 (see Figure 1). Work-related fatalities are those fatalities which were accepted as compensable by an insurer during 2002, and for which the Department of Consumer & Business Services received notification by January 31, 2003.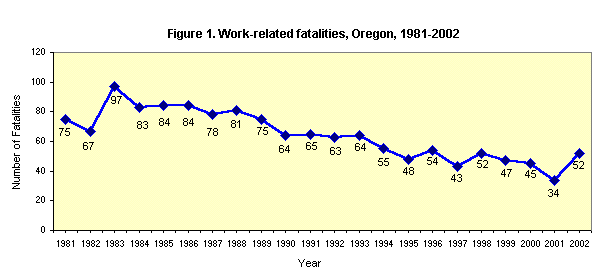 Of the 52 work-related fatalities in 2002, 47 were men and five were women, compared to 33 men and one woman in 2001. The median age of these workers was 40 years. The youngest worker killed was a 19-year-old fire watchman who was driving a pickup to a job site at a high rate of speed. The victim lost control on a curve and overturned, collided with a boulder, and eventually dropped 12 feet into the dry creek bed below. The oldest worker was a 73-year-old timber faller who was cutting a large tree that pivoted, slid backwards, and fell onto the victim.
The government industry accounted for the highest number of fatalities with nine, followed by manufacturing of products other than wood and transportation and public utilities, with seven fatalities each (see Figure 2). The occupation with the most compensable fatalities was transportation operators, with ten fatalities. All of these were truck drivers.

Transportation accidents resulted in the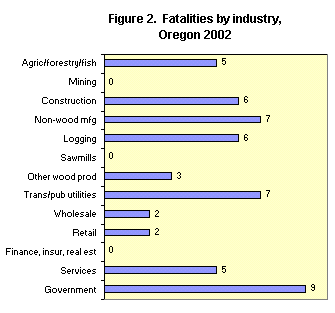 greatest number of compensable fatalities with a total of 21 deaths. These accidents included collisions, overturned vehicles, and fatalities in which workers were struck or pinned by a vehicle. This number also includes one worker who was killed in an aircraft accident and three workers killed as pedestrians. Nine workers were killed by being struck by an object. There were three fatalities that resulted from workplace violence in 2002.
Six of the 52 fatalities in 2002 occurred outside the state of Oregon. Multnomah County and Coos County also had the most fatalities per county with six. Sixteen of the workers killed had been employed for a year or less at the time of their injury, including seven workers who were killed during the first month of employment. These fatalities indicate the need for training and supervision of all new employees.
---
If you have questions about the information contained in this document, please contact by e-mail or phone: Elizabeth Priddy, (503) 947-7051, Research Analyst, Research & Analysis Section, Information Management Division
In compliance with the Americans with Disabilities Act (ADA), all IMD publications are available in alternative formats by calling (503) 378-4100 (V/TTY). The information in IMD publications is in the public domain and may be reprinted without permission.