by Russ Reed


Requests
In 2002 there were 939 requests for Oregon Workers' Compensation Board review of decisions by the board's Hearings Division, about 2.8 percent fewer than in 2001. The worker was the appellant in 56.8 percent of the cases.

Original Orders
The board issued 818 original orders during 2002, 4.9 percent fewer than in 2001. See Figure 1. "Original orders" exclude reconsideration orders and orders on remand from the courts; the count also excludes three third-party cases (there were no crime victim cases in 2002). The data below, except Figure 1, exclude board remands to the Hearings Division and cases not directly dealing with worker claims. Claim disposition agreements and board own motion orders are not discussed here.

The breakout of original board-review orders by order type: orders on review, 80.9 percent; all settlements, 6.7 percent; and dismissal, 12.3 percent.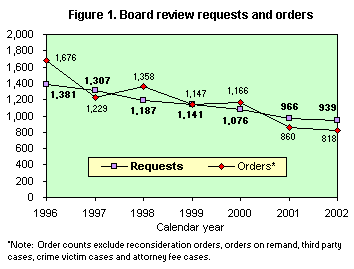 Analyzed Orders
Original orders affirmed or dismissed by the court are analyzed as original orders, but the order date is considered to be the date of the court's action. Court "reverse and remand" cases are analyzed as "on remand" and the date is considered to be the date of the board's on-remand order. Cases pending court review or board order on remand are not analyzed. Table 1 depicts the order types, which are the basis of subsequent analyses.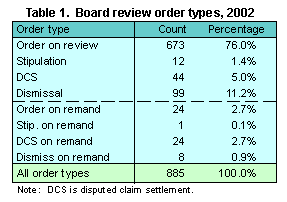 Insurer
SAIF was the insurer in 32.0 percent of the cases in 2002.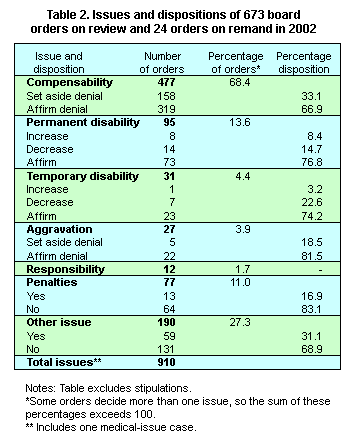 Issue frequency
Table 2, in the "percentage of orders" column, gives issue relative frequencies for orders on review and orders on remand, and Figure 2 gives historical data on compensability disputes. The percentage of 2002 order on review and order on remand cases with the compensability issues of whole-claim or partial denial (68.4 percent) was the highest on record, while the percentage of cases about permanent disability (13.6 percent) was the second-lowest on record. The percentage about aggravation (3.9 percent) was a record-low value.
Issue dispositions
Table 2, in the right column, gives issue dispositions for orders on review and orders on remand. Figure 2 gives historical counts of compensability issues by disposition and the rates at which denials are set aside. The "set-aside-denial" rate for compensability (33.1 percent) was the lowest since 1986; for aggravation (18.5 percent), it was the second lowest on record. The "increase" rate for extent of permanent disability (8.4 percent) was much higher than 2001's record-low 2.7 percent, while for temporary disability (3.2 percent) it was the second lowest on record.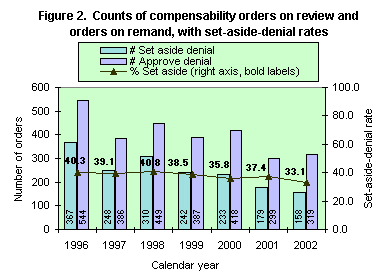 Permanent disability
In 2002, the board issued 103 orders on extent of permanent disability, including stipulations. For orders on review and orders on remand, dispositions are given in Table 2 and are discussed above. For all order types, dispositions were: affirm, 73.8 percent; decrease award, 15.5 percent; and increase award, 10.7 percent.
Average permanent partial disability decreases in 2002 were 17.6 scheduled degrees, 42.1 unscheduled degrees, and 26.3 degrees combined. Total net PPD awarded (the sum of all increases, minus the sum of all decreases) was a net decrease of $74,800 in 2002.
There were no orders about permanent total disability in 2002 (where the board granted, rescinded, or affirmed the award of PTD).
Sanctions
The board considered in three cases the issue of attorney sanctions for an appeal that was frivolous, made in bad faith, or for harassment purposes. All three were requests by the claimant, and all three were denied by the board.
Hearing affirmation rates
For extent of disability, the rates are given in Table 2 (percentage disposition of "affirm"). For the issues of compensability, aggravation, and penalty, the rates (based on matching hearing and board-review cases) were 83.6, 88.2, and 73.7 percent, respectively. (These rates for 2001 were 87.3, 100, and 70.5 percent.)
Based on the "affirm/reverse/modify" codes, 76.2 percent of all 2002 orders on review and orders on remand (combined) affirmed the administrative law judge on all issues (compared to 78.4 percent in 2001). About 12.5 percent reversed the judge, and 11.3 percent affirmed part of the judge's order (A/R/M code of "modify").
Disputed claim settlements
The board approved 68 DCSs in 2002 (including original orders, reconsideration orders, and on-remand orders). In consideration for not contesting denials, insurers paid to workers $860,000 (over $12,600 per case).
Time lags
The median time from request to order on review was 216 days (7.1 months) for 2002. The 2001 time lag (112 days) was the shortest on record, but in the first few months of 2002, few orders were issued due to vacancies in board member positions. The median time from court remand to board order on remand (excluding settlements and dismissals) was 147 days (4.8 months).
Attorney fees
The board directed payment of fees totaling $626,000 to claimant attorneys. The average fee was $2,227, compared to $2,032 in 2001. About 71 percent of all fees were assessed against insurers (74 percent in 2001), just over 27 percent were taken from DCS consideration, and 2.3 percent were out of worker compensation.
The board also reduced hearing-awarded fees by over $428,000 in 2002 (about 4.8 percent of total 2002 hearing fees). Most of these fee reductions were due to reversal of the judge on the primary issue, while some were due to successful challenges to the fee amounts.
---
DCBS Public Home Page | IMD Home Page
If you have questions about the information contained in this document please contact by e-mail or phone: Russell Reed, Research Analyst, Research & Analysis Section, Information Management Division (503) 947-7343.
In compliance with the Americans with Disabilities Act (ADA), this publication is available in alternative formats by calling (503) 378-4100 (V/TTY).
This document was originally published in December 2003.
[Printed form: 440-2363(12/03/IMD)]